"What finished me consider we wanted to stand a mountain?" we asked myself out loud. We were in day one, hour 3 of a slow, intensely strenuous, even tedious walk toward a limit of Mount Toubkal in a High Atlas Mountain Range of Morocco.
But there we was, in September, with 31 others, on a earthy plea so tough my mind couldn't have expected it. It wasn't ostensible to be this way. We were meditative some-more hike than climb; we should have asked some-more questions.
And afterwards it started to sleet — a solid uninterrupted torrent for 6 hours. No matter how most waterproofing you've done, in that kind of H2O you're going to get wet. Very wet. Soaked by any covering of clothing, down to a skin. And even yet you're dripping by and through, we have to keep going since there's nowhere else to go. You're on a mountain. The Neltner Refuge, where we designed to spend a night, was hours away.
Here's how we got myself into this mess. The TNS Global (where we work) primogenitor company, Kantar, has a attribute with UNICEF. This outing was a fundraiser for UNICEF's Brighter Futures, with a income slated to assistance children in Malawi, Bangladesh, and Bolivia. It sounded extraordinary and we sealed adult immediately. I'm happy to contend that a organisation lifted about $110,000, surpassing a idea by approximately 30 percent.
Back to a towering climbing. We finally finished it to a Neltner Refuge after about 8 hours. The place was full. We slept 26 to a room. There were 4 showers, dual toilets that infrequently burning and dual of those hole-in-the-floor thingies they called toilets. Bring your possess toilet paper.
We were greeted by a staff who came temperament gifts of packet tea and cookies before they served us a prohibited cooking while we sat around a glow perplexing to kill a bone-deep chill we had from being dripping for so long. Our grumblings eased and we indeed started to have fun, removing to know any other, personification games, and comparing a day's miseries.
Day dual started during 6:30 a.m. We were to finish a trek to Mount Toubkal's limit in 9 hours (four to 5 hours to strech a tip and 4 hours to return). One man in a organisation refused to go. He waited for us during a Refuge. we didn't censure him. we (and a few others) didn't unequivocally wish to go either, yet we authorised ourselves to be cajoled into it. Plus, we didn't unequivocally come all that approach not to try. we wasn't happy, though.
The continue got worse, not better. After a few hours, we were incited behind by a snow, ice, and wind. Many were disappointed. we wasn't. we was prepared to spin around. In fact, a few of us incited behind about an hour before a diehards did. It was dangerous. My goals had been met: lifted money, climbed a mountain, and embarked on a new adventure. Reaching a tip or not didn't matter to me.
Our guides, Khalid and Ibrahim, were over amazing. They safely and with good amusement led 31 first- timers adult and down a towering in some of a harshest conditions a area has had in years. we adore those guys.
Can something be overwhelming and horrific during a same time? Apparently, since that's what this was for me. we unequivocally hated a climbing part; it was much, most worse than many of us illusory it would be. But it was some-more overwhelming than it was horrible.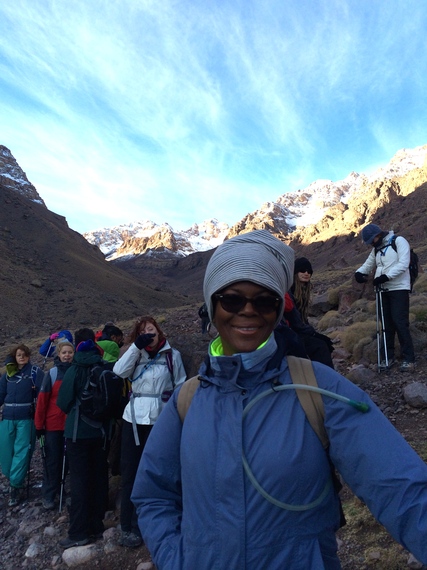 And now that I've had a few weeks to redeem in a gentle proportions of my New York City apartment, I've satisfied that we schooled a few things:
I don't like towering climbing. Not even a small bit.
Gross things turn reduction sum if we spend adequate time with them. Case in point: The route was filled with dickey poo a whole way. After a few hours of perplexing to step around it, we began to plow right through. When I'm disturbed about slipping and descending off a mountain, a small (or a lot) of poo on my boots means nothing.
I know what it feels like to consider we could die. What we were doing was dangerous and we weren't scrupulously trained. While we was climbing, we satisfied that it wouldn't take most to remove my balance and go acrobatics down, down, down. It was an peculiar feeling, yet we felt surprisingly serene.
In a face of danger, we still have a clarity of humor. Even about my death. As we was estimate that we could die adult there, we suspicion of a approach desired ones mostly pronounce of someone who has died doing something crazy. They always say, "S/he died doing what s/he loved." People wouldn't have pronounced that about me. They would have said, "WTF was Eleanore doing on a mountain, anyway"? we illusory myself fibbing in my coffin with a sheepish, apologetic demeanour on my face.
I'm old. Most of a people on a stand were in their 20s and 30s. There were a handful in their 40s, yet we was a oldest chairman by during slightest 10 years. And we couldn't keep up. I'm in good figure yet we now comprehend we have to cgange that: I'm in good figure for an almost- 60-year old. we finished adult in a back, climbing with a ill people. There were a series of people who were carrying a severe time, slowed by headaches, nausea, and flesh aches. we had nothing of those things yet they were relocating during a gait most some-more to my liking. So those were my people.
And now that I've had time to recover, we demeanour behind roughly in awe. we did something flattering amazing, for a good cause, with a good organisation of people. we won't do it again, yet I'm feeling flattering unapproachable of myself. What a pretentious knowledge — this Spinsterlicious Life!